Subcritical water processing equipment
Industrial waste innovative recycling system subcritical water treatment apparatus which can be reused in a simple process using a high-temperature high-pressure steam.
Features of subcritical water treatment
・Ant does not require the separation of extra time and does not require labor  waste.
・Because it does not burn the waste, doixin does not occur.
・It can be sterilized various waste.
・Because it is possible work from two people, including a boiler engineer, does not  take excessive labor costs.
・Running cost is suppressedthan incineration.
・Agricultural waste container , waste , medical waste , infectious waste , paper ,  textile , daily necessities , the processing of other waste becomes possible.
Characteristics of the product
・Product after processing, can be a variety of reuse.
(Excellent liquid fertilizer and compost , alternative fuels of coal , snow melting agent, etc.)
・Have a utility value of a wide variety.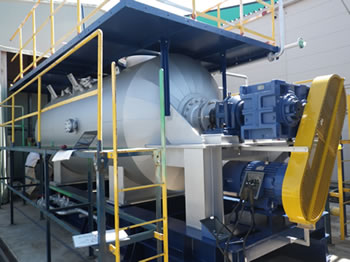 ©2014 PCS Co.,Ltd. All Rights Reserved
Five step of the subcritical water treatment process
By a series of processes in a simple , it is possible to achieve a good job of safe and efficient .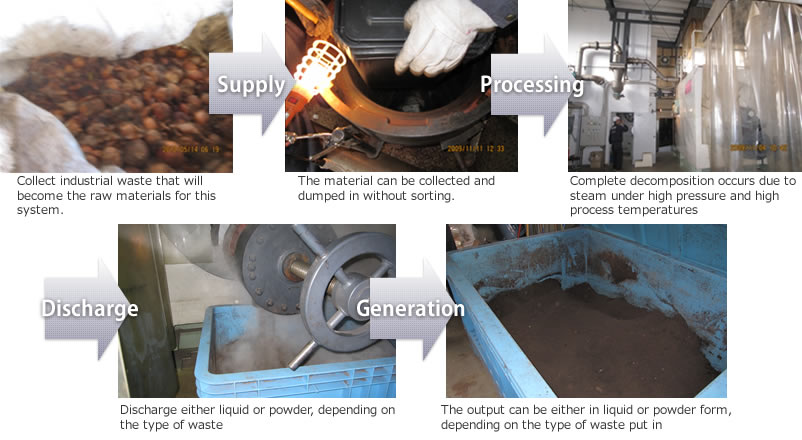 ©2014 PCS Co.,Ltd. All Rights Reserved
Automatic dissolving device
This device autmatically dissolves many types of coagulants into drainage water. The coagulants help concentrate pollutants in drainage so that they can be removed.
Features of the Automatic Dissolving Device

・It saves significant amounts of labor, time, and chemicals.

Role of the Automatic Dissolving Device
The ratio at which coagulants are added varies, depending on the drainage water. It takes labor and time to manyually adjust the correct ratio of coagulants to add, and may consume an unnecessary amount of chemicals.
The Automatic Dissolving Device allows you to save labor and time, and eliminate waste, as it automatically controls the solution of coagulants, to keep the ratio appropriate.
(Some customers have said that they have reduced their consumption of chemicals by 10%.) In addition, it can be used for special processing including separation aggregation (pressurized floating tank) and for processing heavy metals, as well as other applications.
What are coagulants?
Coagulants are used to concentrate pollutant components that are contained in drainage, in order to improve the separation efficiency of the floating pressure-treatment processing device.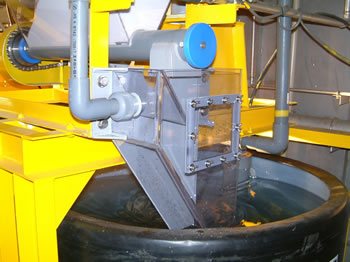 It can weigh and addmany types of coagulants into a solution.




Here the pollutant components have been concentrated in the drainage. The white grains are the pollution components.
©2014 PCS Co.,Ltd. All Rights Reserved
Membrane treatment Equipment
This method can be used to separate molecules of water, by pressurizing the pressure higher than the osmotic pressure, using a microporous membrane.
Characteristics of the membrane treatment equipment
・Year in the only a few times of maintenance, is also easy maintenance itself.
・Make regular cleaning after construction, but there is no need to raise the film at that time.
・To ensure reliable stable treated water quality by appropriately perform maintenance.
・Treated water quality is reusable without suspended solids and coliforms.
・Without the need for settling tank, can be reduced the size of the aeration tank, it is possible to achieve a significant space saving.
Role of membrane treatment equipment
Water and other impurities ( suspended solids and nutrients, E. coli, etc. ) it is possible to be divided into , and can purify very high levels.
Maintenance is easy , and cleaning with a chemical solution and is completed in the washing in " Aeration tube " of using air bubbles and water .

Inspection can be carried out as it is .

©2014 PCS Co.,Ltd. All Rights Reserved
Floating pressure-treatment device
System to purify by blowing pressurized water that contains a very fine bubbles adsorption flying pollution components in the waste water
Features of floating pressure-treatment device
・Since device is automated , the operator is not required excessive knowledge , there is no stress.
・Can be operated once a day or all day long, depending on need.
・It offers much higher contaminant removal rates, 90% of floating substances, and 99% of oily components.
・Its capacity can be specified, from tons per day up to thousands of tons per day. There is no limit when designing the capacity.
・Can be used in a wide variety of locations from manufacturing plant drainage, to rivers, lakes, marshes and ponds.

Effects of the operation of this device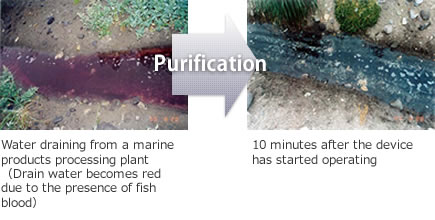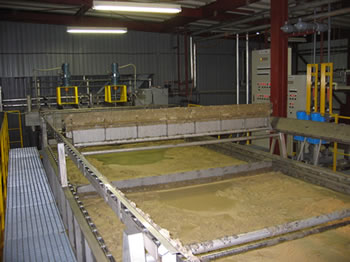 ©2014 PCS Co.,Ltd. All Rights Reserved
Aeration and anaerobic meters Water quality monitor
What is an aeration meter?
It is an instrument that continuously measures and records the dissolved oxygen concentration (DO) and oxidation reduction potential (ORP) in the drainage being processed. in outputs driving signals to external equipment.
What is an anaerobic meter?
This is an instrument that continuously measures and records the hydrogen ion coefficient (pH) and oxidation reduction potential (ORP) in the drainage being processed.
This meter also outputs driving signals to an external device.
Characteristics of the aeration and anaerobic meters
・The aeration meter allows you to decrease the operation cost because you can adjust the amount of aeration to the minimum required level.
・The anaerobic meter allows you to maintain the anaerobic status at the optimum level.
・Since you can check the status of the drainage being processed, you can handle changes in the status easily.
・You can also take steps quickly if toxic substances contaminate the process.
・This device can allow external equipment control processes to keep them withn the specified values.
・The integrated 24-hour timer allows you to control the operation according to the time of day.
・Since you can react to changes immediately, you can keep the chemical and labor costs needed to correct problems to a minimum.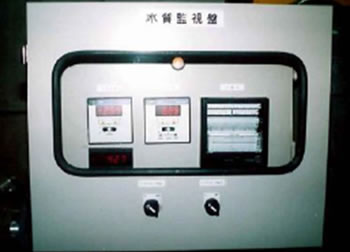 ©2014 PCS Co.,Ltd. All Rights Reserved
Farm Beacon Manager
It is a program that enables you to sample any data including temperature, pressure, pH, ORP, and liquid level, save it on a real time basis, and then immediately output the saved data.
Characteristics of the Farm Beacon Manager
・It can show circular graphs on which it is easy to read the time axis and peak values, and polygonal line graphs that make it easy to read the elapsed status, as well as summary tables.
・Remote monitor function using a PHS cellphone communication terminal.
・Long-term unattended data sampling.
・Multi-channel simultaneous display.
・The alarm buzzer lets you know which channel is souding an alarm using a buzzer and lights.
・The graph can be zoomed in and out, and rotated.
・Can save 4-20 mA or 1-5 V signals as digital data on a real time basis.
・Immediately identifies and outputs data from a certain period of stored data.

Manufactured and sold by: PCS Corporation Ltd.
Software program developed by: LUKLA Co., Ltd.
| | |
| --- | --- |
| Required specifications | |
| OS | Windows 98/NT4.0/2000/XP/Vista/7/8 |
| Hard disk free space | 10MB or more |
| Memory | 128MB or more |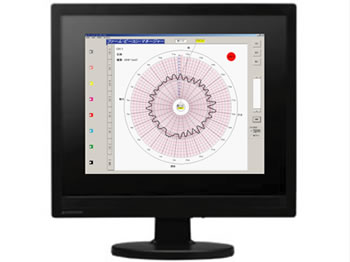 ©2014 PCS Co.,Ltd. All Rights Reserved
Recovery of the environment (engineering works for the environment) Purify the water in rivers, lakes, marshes, and ponds
We propose regenerating and improving the self-purification capacities of revers, lakes, marshes, and ponds that have deteriorated due to the excessive nutrients that come with urbanization. Our system is designed to restore the natural purification capabilities of water bodies using our unique engineering methods, in cooperation with local governments.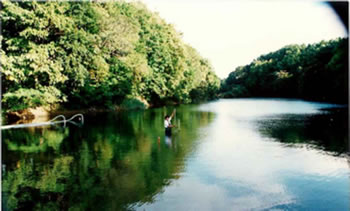 Construction case 1 (cloudy pond)



Since the pond was polluted by
livestock waste and city waste-
water, aquatic weeds have
overwhelmed the pond, and the
pond became cloudy.




We proposed our unique
purification engineering method to
artificially promote the pond's
natural purification capabilities. We
removed some of the water weeds.




Processed a specified area of the muddy bottom
using a temporary dehydrator.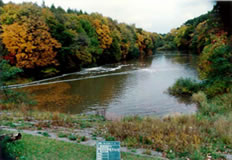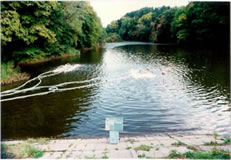 The photo on the left , Promoted natural purification by aeration.

The water quality was improved and the abnormal growth of aquatic weeds was also suppressed.
(After half a month after construction start)
After construction is complete, we conducted a survey of improvement status every five years.

Now the pond has been reborn as a fishing pond, attracting many people.
Construction case 2 (abnormal quantities of algae in the pond).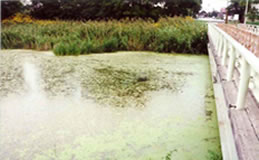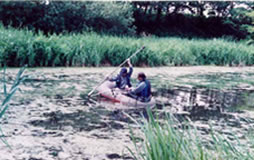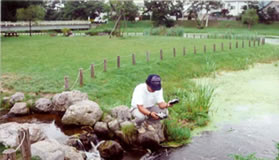 As a result of investigating the rot pond by abnormal proliferation of algae, it was confirmed that the deviation of nutritional classification is the cause.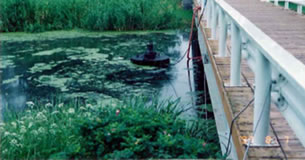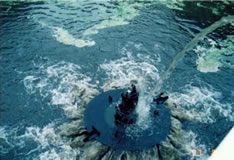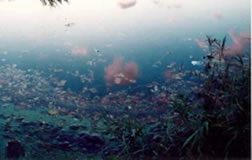 We proposed an engineering method to increasing the bacteria by circulating the pond water in order to reduce the unusual concentration of nitrogen.
Due to the improvement in water quality, the pond recovered its normal balance, and the abnormal amounts of algae were suppressed. (After half a month after construction start)
Now, the quality is maintained, and the pond has become a site for recreation and relaxation for the public.
Construction case 3 (restore the function of a water collection well that prevents landslides).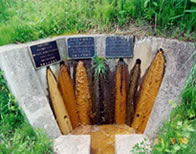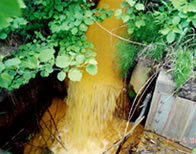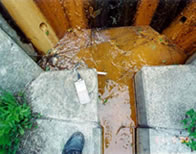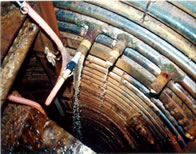 Status of the water collection well for preventing landslides due to the contamination of pelite soil in the ground water.
Such as clogging by iron molecules, to implement Countermeasure to prevent the influence on the downstream by water pollution.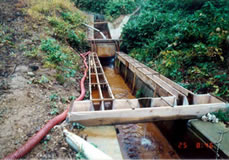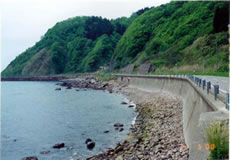 We removed the various blockages using a special PCS engineering method.
Since then, our method has become a standard method for this type of problem.

We proposed improving water quality using sea shells.
We put the plan into practice in cooperation with a consulting company.
At present, even if discharged into the sea was been improved in water quality with no problem.

©2014 PCS Co.,Ltd. All Rights Reserved
Biological treatment
(Drainage treatment using many kinds of microorganisims)
It is a method to artificially induce purification that is performed naturally by microorganisms, including bacteria, protozoa, and metazoa. By supplying oxygen (aeration) to sludge containing microorganisms the sludge is activated. Our device oxidizes organic materials and purifies polluted water.



The aggregate of coagulants and pollutants in activated sludge are condensed and sink to the bottom




We can see lots of microorganisms in the aggregate by looking at it under a microscope
What is an aeration tank?
It is used in one of the steps in processing activated sludge. It is a water tank that activated microorganisms by supplying oxygen to the sludge.
PCS aeration tank , to achieve a very good and efficient aeration by employing a highly efficient Aeration tubes is static mixing schemes.
In addition, have achieved the efficiency and energy saving by microbial activity.
The Aeration tube of static mixing system operates effectively even when the sludge concentration is very high.
What is a setting tank?
This is atank in which substances supended in polluted water can sink, so that they can be separated from the supernatant.
As we have both civil engineering technology and design know-how, we can design and construct devices and systems without veing restricted by materials or the scale required.
Its skimmer structure provides fine consistency, using the characteristics of the drainage being processed.



Appearance of steel settling tank




Appearance of reinforced concrete settling tank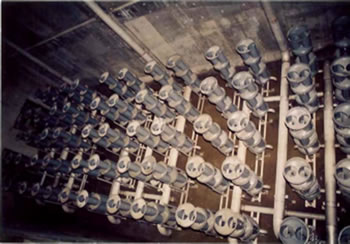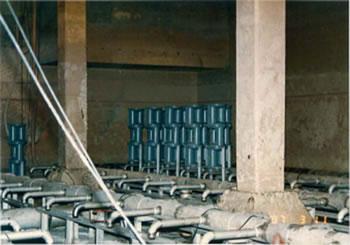 The aeration pipe with the static mixing system of PCS.



Inside of steel settling tank




Inside of reinforced concrete settling tank



Separates purified water from activated sludge by sedimentation.
©2014 PCS Co.,Ltd. All Rights Reserved
Deodorization equipment



Ammonia removal device for treatment facilities of the midgut line of scallops.




Cascade tower by seawater that had been treated with liquid cyclone.
Washing deodorizing device of poultry manure drying plant.
Washing deodorizing device of fish meal factory.
For production, design and enforcement
Based on the exhaust gas measurements, on top of the fine calculation, do the design and construction.
Adopt the special material of corrosion resistance including the stainless steel according to the application.
Performs its own design , manufacturing and construction from the basic part of the various types of equipment , and has realized the optimization of the significant cost savings and specifications .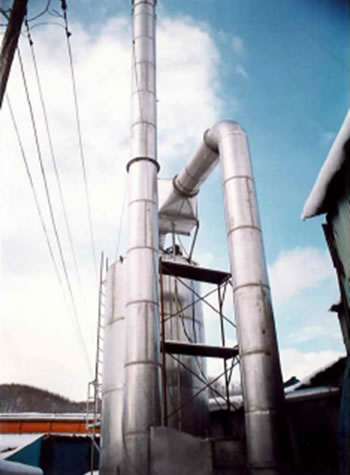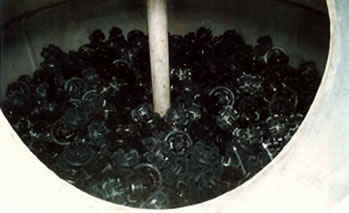 Internal landscape of deodorization tower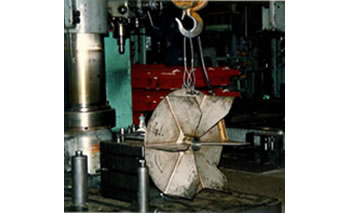 Impeller production landscape for large volume fan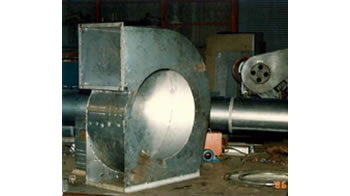 Production landscape of a large volume fan

©2014 PCS Co.,Ltd. All Rights Reserved
Radioactive contamination countermeasure technology
Effect of radiation
Radioactive material is scattered by the Fukushima Daiichi nuclear power plant accident , still remain wide range is contaminated areas.
Cause the ionization effect to the part this radioactive substance has passed.
What is ionization?
1. Positive and negative charges are separated.
2. It becomes prone to chemical reaction.
It is a phenomenon that has a characteristic that.
When the ionization occurs in the cell, genetic information (DNA) might be damaged.
Damaged cells, can no longer be normal metabolism, will be the cause of teratoma and cancer by death or mutation.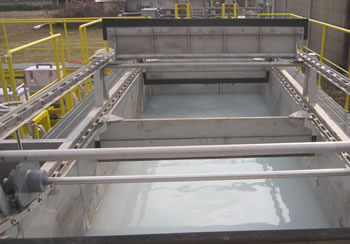 Types of radiation
Radiation that is generally problematic can be classified into three types of α -ray · β · γ -ray line.
α line・・・

ionization effect as strong , a large influence in the internal exposure.
Penetrating power is weak , can be blocked by the one paper.
Fei distance short , the to fly a few cm degree in the air.

β line・・・

ionization effect than α line is a little weak but strong penetrating power.
Possible shielding with a few mm aluminum plate or about 1cm plastic.
However, there is a property of emitting X-rays at the time of deceleration
due to the shielding, it is also necessary to perform there the shield.

γ line・・・

Compared with the two above, ionized effect is weak . However, have a very
strong penetrating power and long fei distance.
Of the three, the γ -rays is a major cause of external exposure.
The shielding is required lead plate of about 10 cm.In addition, has a feature
that does not have a charge, there is no influence of electromagnetic waves
,go straight.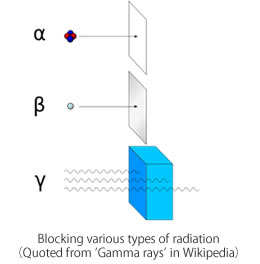 About decay
It is a phenomenon in which the radioactive material to generate a collapse radiation.
The decay radioactive material changes to other substances. ( Example : cesium-137 is a change in the barium 137m)
The generation timing of the decay is not fixed, the radioactive material is ready to always stochastically decay occurs.
The half-life, by the decay occurs, it is a period required is the total amount of radioactive material was halved.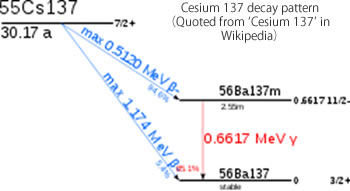 For decontamination
The majority of decontamination that have been made from the time of the accident, the topsoil removal work of manual workers is the main.
However, decontamination work of high concentration region ( hot spot ) in is this way is difficult, and will be a problem for the custody location of a large amount contaminated soil.
In addition, the half-life is the difference is by the nuclide (it is period takes to become a half quantity. But is not disappear.), For example , cesium 137 is 30 year.
Thus, contamination with radioactive materials, just not resolved by simply standing phenomenon continue giving long term deleterious effects on the surroundings. Therefore must be actively carried out decontamination.
About PCS decontamination technology
The Company, established a decontamination technology that applies the wastewater treatment technology. ( Verification test completed)
1. Cleaning of pollutants by pressurized water

2. The floating pressure-treatment device was used, and cleaning of used wash water, separation of pollutants

3. Using dewatering equipment, is the separated pollutants volume reduction

The above three points as a basic , do the decontamination on the fine adjustment according to the subject and location.

Verification test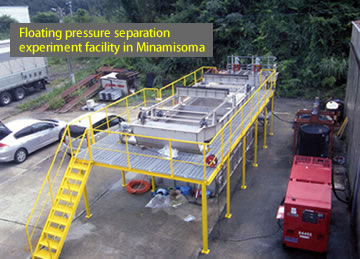 Equipment used in the verification test ( Minami Soma )
Test results
Sample name
Floatation on the
treated water
Floatation on the isolates
Cs134(Bq/l)
1.2~2.0
24000~42000
Cs137(Bq/l)
2.2~3.6
39000~70000
Cs total(Bq/l)
3.4~5.4
63000~110000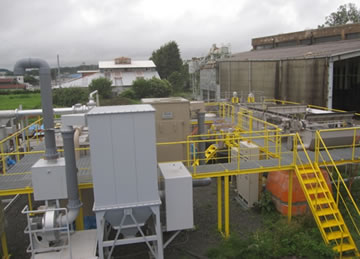 Equipment used in the verification test ( Koriyama )
Features of the PCS decontamination technology
・Be to volume reduction to minimize contaminants, makes it easy to secure the storage location.

・With that pressurized water is also used to process , can be performed reuse and drainage

・Because there is no design limit for processing equipment , the scale of the target is not a problem
Application of PCS decontamination technology
By circulating processing the pressurized water, enables efficient and less wasteful decontamination.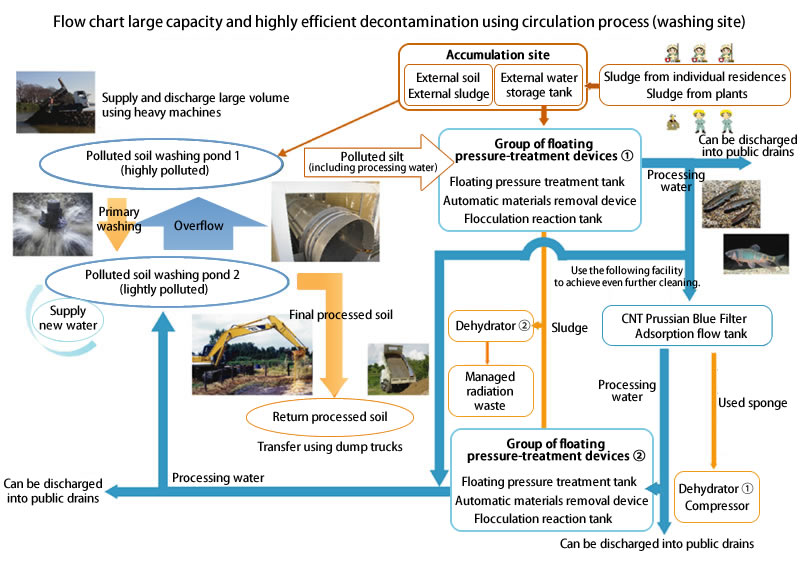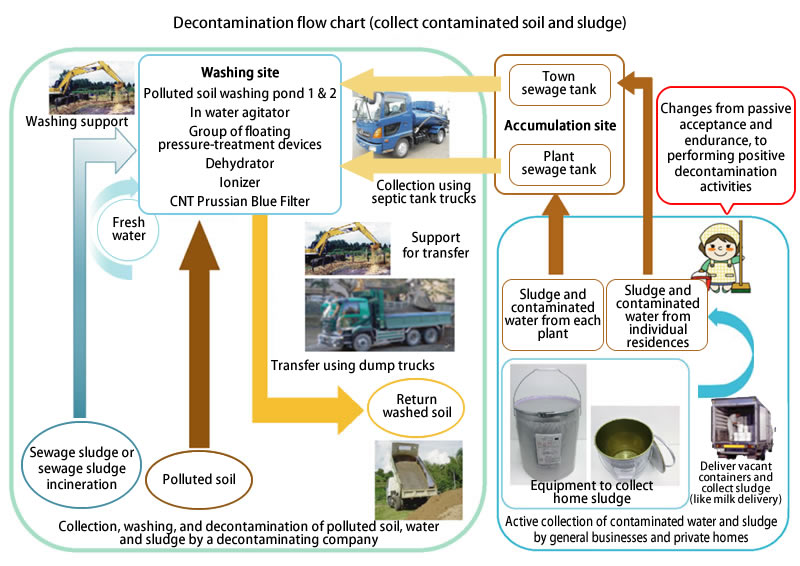 By utilizing this property, it can not be handled by conventional decontamination method, enabling decontamination of the forest.
(Patent application has been)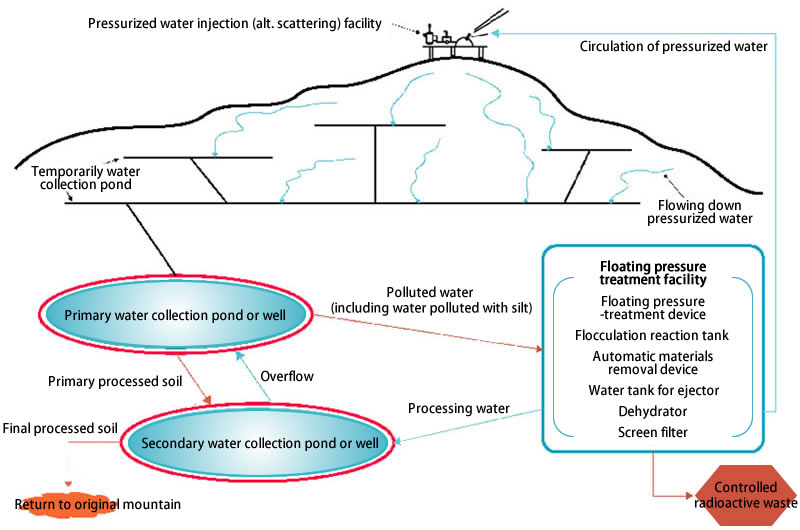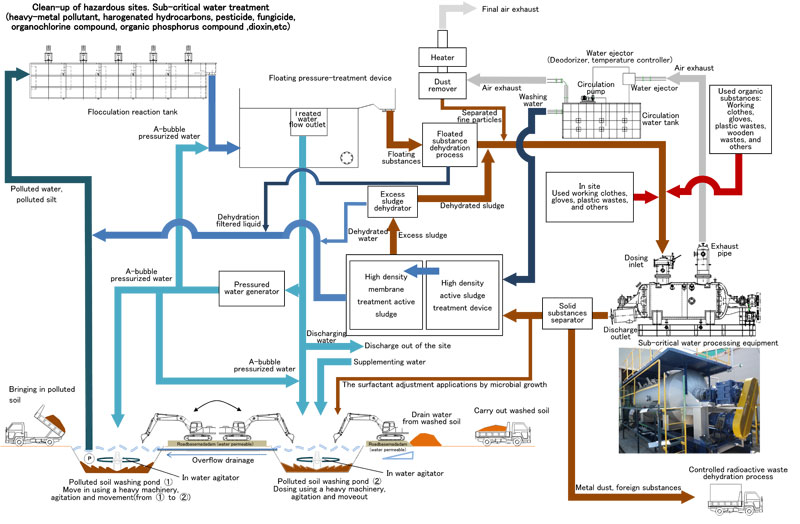 CNT ultrasonic dispersing device
Memo of CNT etc. , the movement of electrons
1. Conductivity

The movement of electrons in CNT and graphene is already well-known. One

of the four electrons in carbon is not used for binding and can move throughout the molecule (a so-called π electron). Also, electrons are used for hybrid binding in what chemists call resonance. Materials with free moving electrons are classified as metals. Molecules whose electrons are engaged in hybrid binding are classified as insulators and semiconductors, because the electrons cannot move freely.
In "metallic" forms of CNT, each carbon atom is linked to others making a lattice. Electrons move freely throughout this net. This free moving status is just like the free electrons in metals that provide conductivity.
There is a carbon atom at each corner of the hexagons. In this carbon lattice, electrons can move freely. The configuration above allows a material to be conductive. Engineers also believe that these materials can be used for making various electronic elements, since their electrons respond to electromagnetic waves and light. CNT has become a focus of interest because the electrons inside them can move about in an extraordinarily free fashion.

2.Electronic devices such as semiconductors

After looking closely at CNTs and graphene, which are different from ordinary materials, after quantized it was found that the electron orbits in these materials do not have an energy gap that needs to be crossed. Rather, electrons accumulate easily in the gapless areas (around the carbon lattice), and high-energy parts like observation platforms (electrons need enough energy to reach the six intersections (carbon frames). Thus, when an electron receives receive energy from others near by, it can move smoothly inside the tube. Therefore, the CNT and graphene hybrid material allows electrons to move much more freely than other materials.
A material without a band gap can have artificial gaps created in it by injecting metal (doping) or by creating structural faults. This allows it to be modified so as to have the desired electrical qualities of a specific device. This is because CNT semiconductors can achieve high electron mobility. This is a method for creating a different product by injecting additives into a material. One example of this is to improve semiconductor characteristics by adding a small number of metal atoms to silicon, for manufacturing electronic parts. Using this material, heat generating elements and IR absorbers can be produced easily by skilled engineers.

3.Effect on heat and light

No heat occurs even though holes and electrons flow. Resistance to the movement of current generates heat while performing a task. CNT and carbon-based materials generate heat as electromagnetic waves pass through them. This is because the dipole structure of an atomic nucleus delays the vibration a little as it passes through an electron. This means that the electromagnetic wave is influenced by the electron bars. This delay of the electromagnetic waves is finally emitted as heat (longer wavelength electromagnetic waves). Furthermore, CNT material apparently has different reactions to heat and light from the outside. (Light causes larger changes than heat because light interacts easily with electrons.)

4.Are CNTs difficult to deal with?

To create new material, to enhance the purity of material, or to select a material's properties, nowadays manufacturers vaporize carbon rods using an electric arc discharge, disperse the CNTs created, or protect them with surfactants.
In order to enhance the properties of India ink, people in ancient China burned wood containing resin, such as pine, inside a lean-to shed (with a tilted wall). Then they collected the soot on the wall. At that time, the soot collected near the flame was used for low priced black ink, and the fine soot which landed on the wall at a distance from the flame was used to make high priced black ink. They used glue to capture the soot for this process. (Without using a surfactant, the glue will harden and no more soot can be collected.) So, the fineness of the soot and the cohesive action of the binder, as well as the capacity of the surfactant used in the ink determine the final quality of India ink. Similar to modern doping (intentional contamination with metal) to change a material's properties, people in the distant past added gold or blood (hemoglobin iron or the metals in enzymes) to the binder used to make black ink, in order to improve its luster (interaction with electromagnetic waves).
Although you can learn how electrons move in CNTs and in graphene from the literature, it is important for you to understand their interesting properties to begin constructing ideas about how to apply them with logic and practice. It is vitally necessary for you to imagine the properties required for heat emitting materials, heat absorbing materials, and electronic devices.
CNT and graphene may exist in the universe, and possibly even on earth, from ancient times. Large quantities might have been generated by meteor impacts and forest fires, perhaps during the age that dinosaurs were going extinct. We rediscovered these old substances in the modern world. To develop application technologies for these old substances is really quite interesting. Every day I think about the electronic properties they have, which can be used for decontamination and in biological fields. I think it is important to know how to use them. If there is time, I would like to talk about my vision of these applications.
Reflection of ultrasonic waves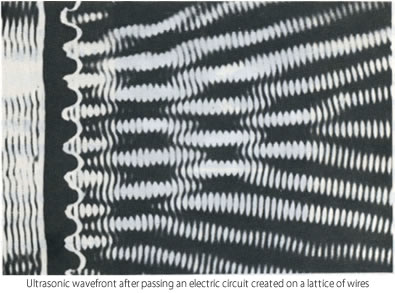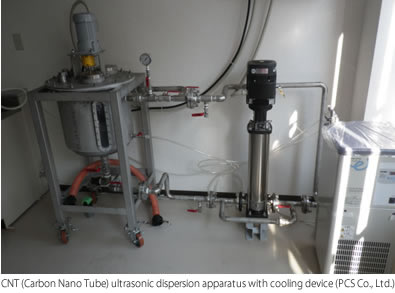 Reflection of ultrasonic waves
A vibrating metal tip generates ultrasonic waves and many fine vacuum points are generated and collapse. That creates a high pressure and disperses fine liquid molecules, generating air bubbles and high pressure. This process allows the formation of stable, emulsified liquids. This is basis of ultrasonic emulsification.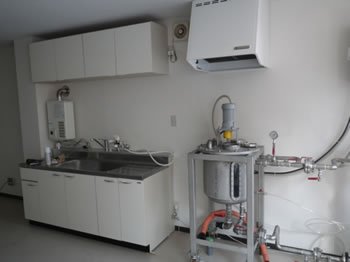 Appearance of the CNT (Carbon Nano Tube) ultrasonic dispersion apparatus
Inside of the CNT (Carbon Nano Tube) ultrasonic dispersion apparatus(under operation)
Sludge dewatering equipment
What is dehydration?
Sludge generated after sewage treatment, usually is used again to sewage treatment as return sludge.
However, if it becomes more than a certain amount, it must be treated as excess sludge.
In this case, the high water content sludge(95% before and after), there are problems such as increase in processing costs.By performing the dehydration process, the water content is lowered, the problem is solved(70-80% before and after).

Sludge before dehydration processing(Left)
Sludge after dehydration treatment(Right)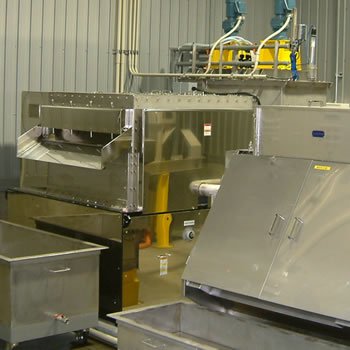 PCS specification dehydration processing
PCS sludge dewatering process is automated aggregation and dehydration, the cleaning of the apparatus.Therefore, maintenance and management is very easy.Also, each device are independent . Therefore , it is possible to various combinations.

Automatic dissolution apparatus automates the addition and dissolution of the coagulant(Left),
Agglutination reaction tank , to stir the sludge and flocculant(Center), Multiple disc type dehydrator(Right)
Dehydrator that PCS is owned

Simple expressions rapid dehydrator(Left), Rotary -screen Simple dehydrator(Right)

Belt conveyors used in multi- disc type dehydrator and automatic transfer(Left), Screw press dehydrator(Right)
Neutralization treatment equipment
What is neutralization process?
Sewage there is a bias in the pH value, when removing the contamination component , perform a neutralization treatment at the same time.
Neutralization treatment in heavy metals processing, it a very important process.
pH reference value in the facilities of our installation
pH prior to

neutralization

pH after the
neutralization
Facility A
2~5
6~8
Facility B
10~12
6~8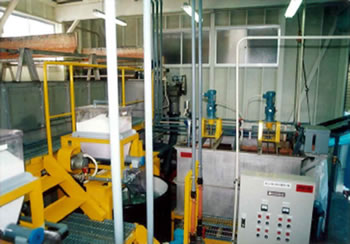 PCS neutralization treatment equipment
PCS neutralization treatment can be to optimized performance on the size and nature of the drainage facility.
In addition, all of the system because it is automated, it is easy to maintain and manage.
This device, for industrial wastewater with extreme bias, has become a very simple adjustment device. In addition, smoothly can be carried out, such as isoelectric point processing of neutralization treatment and seafood processing wastewater of washing drainage.


And performs a neutralizing treatment prior to dehydration(Left),
Apparatus for dissolving the coagulant and neutralizer automatically(Right)
Our company control equipment can be used. In that case, it is possible to manage various types of data.

Floating pressure-treatment and Neutralization treatment(Left),
Neutralization treatment equipment of laboratory drainage(Right)

Neutralization treatment of processed agricultural drainage(Left),
Neutralization treatment of squid processing wastewater(Right)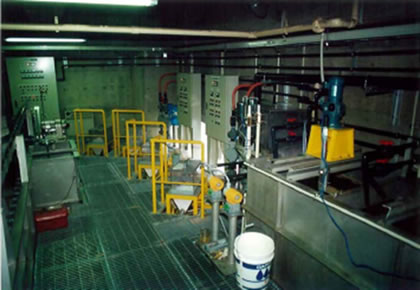 Neutralization treatment and heavy metals processing of garbage processing wastewater